Welcome to the home of the LTE Bridge Team, based out of the metro Atlanta, Georgia area. We host Artemis Spaceship Bridge Simulator events for private parties, conventions, and business team-building events.
Interested in getting your event onto our event schedule? Contact us for pricing and scheduling information.
Highlight Reel
What Is Artemis Spaceship Bridge Simulator?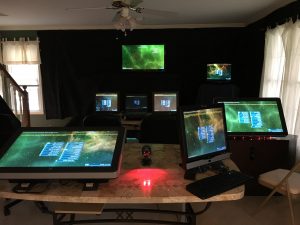 The Artemis Spaceship Bridge Simulator is a game developed by Thom Robertson. Artemis is specifically designed to "turn your living room into the bridge of a spaceship". Each copy of Artemis running on a PC, Mac, or tablet connected to the LAN represents a duty station: Helm, Tactical, Science, Communications, Engineering, and so on.
Artemis is by design a social teamwork experience which requires direct communication with other participants. It's more role-play and socializing than pure "computer game", fitting in a niche between sci-fi LARP and LAN party. It's very common for self-declared "non-gamers" to enjoy Artemis.

Where did the Lawson Thompson Experience originate?
In the spring of 2016, my geek-in-training daughter asked for an Artemis LAN party for her birthday. Being the awesome geek parents we are, we heartily agreed!
After several evenings of redecorating our dining room and living room, we hosted a four-hour LAN party for our daughter's Jr. High friends, and then a second party afterwards for a few families who were interested. I posted an after-action report under my gamer tag "LawsonThompson" here on the Artemis fan forum.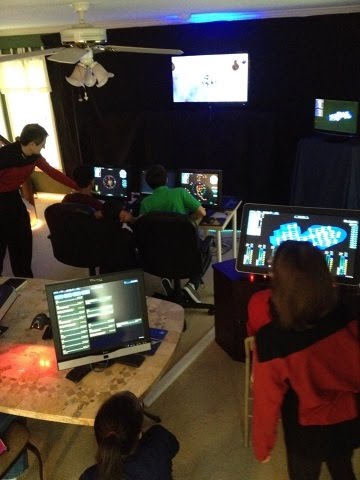 A few days later, I had a complete Artemis "fanboy" moment when Thom Robertson posted in the forum thread:
From the first, the LawsonThompson experience is what I envisioned my Artemis game to be about. In fact, let's call it the "LawsonThompson Experience", or LTE.

I pledge to always keep the LTE in mind while continuing to develop Artemis SBS. While I want to expand the game so lots of people can play anyway they wish, I never intend to add or change something that will detract from the LTE.

I was very flattered that Thom himself gave me an acronym! At that moment, I decided to dub my setup the "LTE Bridge," and the name stuck.